Aptos (APT) reached $18.65 with a strong rise of 19.25 percent after the Fed rate decision.
The Fed announced the first interest rate decision of 2023 in the light of expectations. The Fed Open Market committee (FOMC) increased the policy rate by 25 basis points by pulling the policy rate to the range of 4.50-4.75. After the decline in cryptocurrencies before the Fed interest rate decision, APT went on the attack again. Aptos, which has had a large transaction volume in the crypto money market recently, has led the market for altcoins by taking the ropes again after the Fed interest rate decision announced yesterday evening.
Why Is Aptos Rising? APT Coin Review
Continuously working towards improving the ecosystem, Aptos continues to be active on the technology's evolving blockchain developments, NFTs, DApps, Web3 and smart contracts. As a result of his work on the Layer-1 platform and Ethereum scaling, he started to receive positive feedback.
Solana, which has made a name for itself in the past, has started to create the same effect for the market as Aptos has made an impact in its popular period. Ethereum, which is a pioneer in terms of altcoins, has always been compared with other projects in terms of structure. These projects marked the market at that time and showed sharp rises. With the Aptos working process, activities and the wind behind it, it is the current Ethereum killer candidate.
Aptos Chart Analysis, Will APT Rise Continue?
Before the first Fed interest rate decision of the new year, the price of Bitcoin (BTC) in the crypto money market came to the level of $ 22,490, which is the important support point. With the decline, many altcoins tested their support points. APT broke the $15.60 level as a timely resistance. While the volatility continued after the Fed decision, the altcoin APT was the fastest to keep up with the sharp increase in Bitcoin.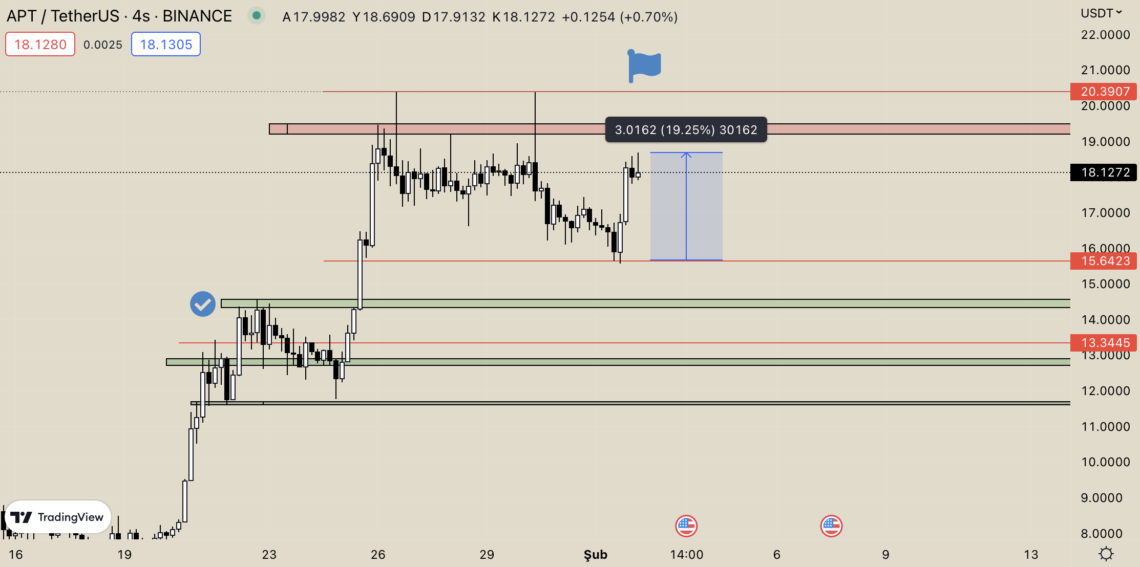 In the APT chart analysis, before we can talk about the all-time high (ATH), it is necessary to wait for the $20.39 level to be surpassed, where it peaked first. The first support point that can be bought stands out as the $15.64 level. With the protection of this place, a move to $ 19.20 levels can be observed again. With great volatility, APT could open the way for a drop to $14.57 if it fails to maintain this support. Unless it receives a reaction from these support points, the $13.34 level, where it first started its steep rise, can be considered as strong support.