"Nano influencers" is a name given to those who, with just a few thousand followers, can turn a social media hobby into an affordable side job or even a full-time job. An example of this is Jalyn Baiden.
Baiden, a skincare phenomenon with 4,000 Instagram followers and 8,000 TikTok followers when Business Insider interviewed him in May, is making substantial money as a full-time content creator.
Brand agreements are one of Baiden's ways of earning revenue.
For example, at the time of his conversation with Insider, a three-frame Instagram story started at $350, while a TikTok image started at $1,000. Baiden said it adapts its prices for each settlement and sets those prices based on output, usage rates, and exclusivity.
THE SECRET IS NICE CONTENT, FEW FOLLOWERS BUT REAL AUDIENCE AND HEAVY INTERACTION
The biggest reason nano influencers achieve this is because their small number of followers are heavily engaged. In addition, these followers consist of people directly related to the issue. In other words, an advertising-targeted post is shown to individuals who may be directly interested.
THE INFLUENCE OF NANO INFLUENCERS INCREASES
A 2022 report by influencer marketing platform Izea revealed how much influencers with various sizes of followers are earning on Instagram, TikTok, YouTube, Facebook, Pinterest and Twitter. Izea says that nano-influencers are notable for earning 36 times more overall than in 2015.
Nano influencers have become increasingly valuable to brands and influencer marketing agencies because of their niche content and highly engaged audience, according to Business Insider's analysis. Also, they often work for lower prices than influencers with hundreds of thousands or millions of followers.
CEO of sports marketing and brand development startup FanWord Christopher AumuellerIn an interview with Insider, " You don't need to have 40,000 or even 10,000 or 5,000 followers" says.
Platforms like Heartbeat, which specialize in helping nano-influencers connect with brands, have already made their way into the segment.
While reaching 10,000 followers on Instagram is a worthwhile hurdle for aspiring influencers to get on the radar of more brands, build a larger following, and certainly unlock access to monetization tools, this isn't the case for nano influencers. They are able to generate a comparable income despite their lower follower count.
'I THOUGHT HUNDREDS OF THOUSANDS OF FOLLOWERS WAS NEEDED'
insider When he was interviewed in MayTess Barclay from Toronto had 30,000 followers on Youtube, 5,600 on Instagram and 10,300 on Tiktok. According to him, companies no longer need hundreds of thousands of followers. Brands are now also working with creators who only have a few thousand followers to help them advertise their work and services.
Barclay sends a one-page media kit to every brand it wants to work with. Barclay initially worked with brands like FabFitFun in exchange for free work. Subsequently, it made its first brand agreement in February 2021. The settlement with CloudTax was worth only $115. Since then, he has been working with valuable brands.
"I always thought you needed hundreds of thousands of followers to make money on social media, but that's not without its faults. There are many ways to make it a business, even if it's part time," says Barclay.
created in 2019 says the media kit has helped make those commitments happen.
At the end of 2021, Barclay was earning as much from social media as he was from his 9-to-5 job, so he quit his job full time to create content and mentor brands on influencer marketing.
Advertising revenue and brand reconciliations are in the middle of her revenue streams as a content creator.
PREPARING THE MEDIA KIT…
In the media kit that Barclay sends to companies, information such as demographic information of followers and target audience is included. The media kit that helped him make multiple reconciliations was as follows in May 2022: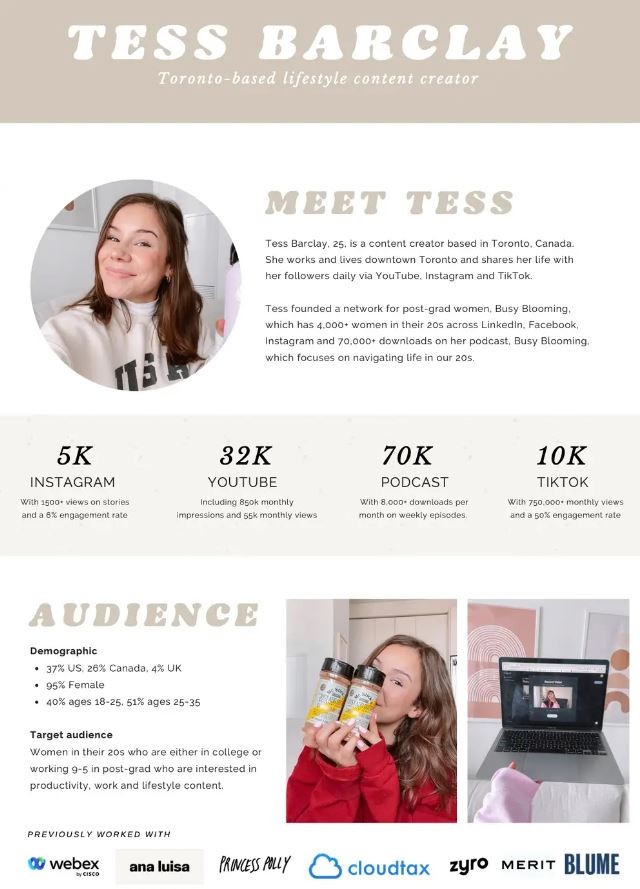 You may also be interested in these articles:
How to freeze Instagram account? Account freeze link

How to close Instagram account? 2021 current account closure link

The easiest way to delete Instagram search history

How to download Instagram stories?

Instagram Shop is coming to Turkey

How to make Instagram story settings? How big should the story be?

How to add caption to Instagram image? What size should the image be? Here is how to add subtitles step by step

What is Instagram add your birthday? Why does Instagram ask for your birthday?

How to unmute an account or a story that you have muted on Instagram?

What is Instagram contacts feature? How to link a directory?

What to do if Instagram notification notification does not come? Steps to turn Instagram notifications on and off

How to add music to photo on Instagram? Step-by-step explanation with photos