Due to the recently increased dollar rate and inflation, the developers offer the games they publish at high prices for our country. A game that was listed on Steam recently became the agenda on social media with both global and Turkish prices.
Steam's most expensive game: The Hidden and Unkown
A developer named ProX recently released a game called The Hidden and Unkown on Steam. It's about telling the developer's background and philosophical thoughts in a story that evolves with the choices the player makes. So he takes inspiration from his own life.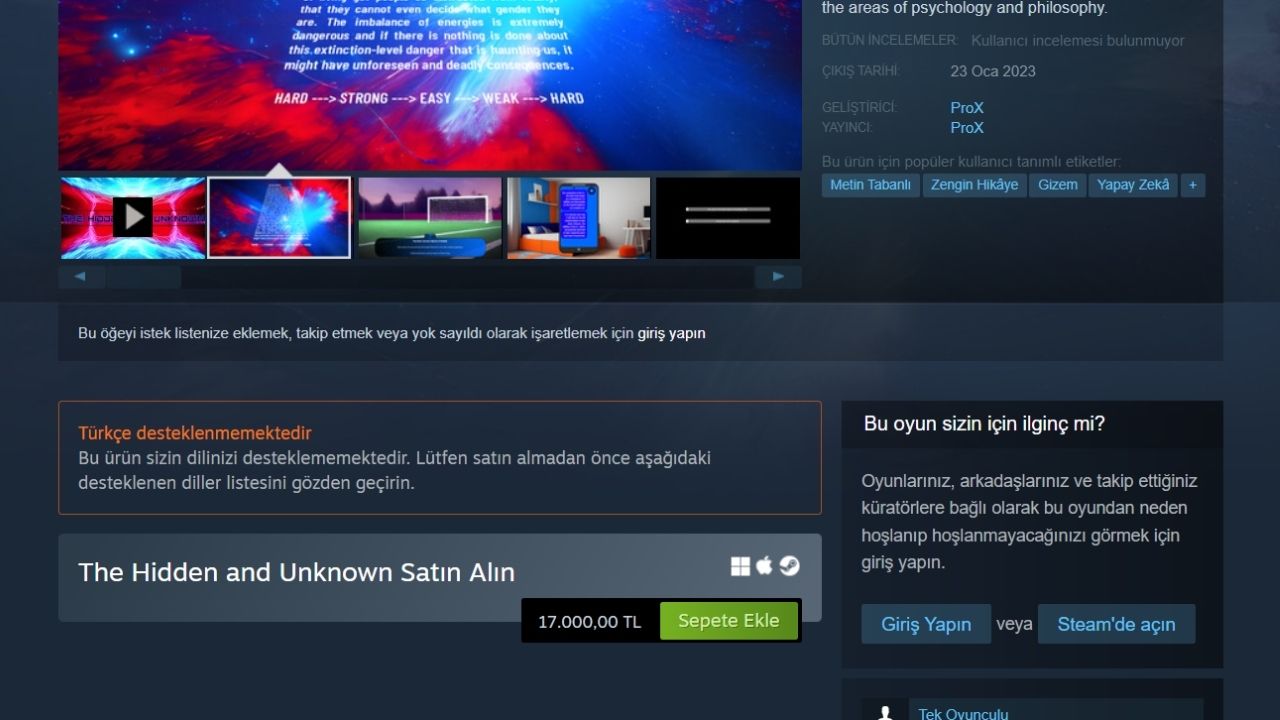 The Hidden and Unkown in Turkey 17 thousand TL, if abroad 2 thousand dollars on sale at the price. Contrary to popular belief, the game does not have remarkable graphics and mechanics. Because it only consists of texts and a few images placed in the background. There will be no one who has bought the game so far, there are no comments.
Speaking to TheGamer, the developer said he didn't want to sell his life on the cheap when asked why the price was so high. He also stated that according to him, this is more than just a game.
The developer says that he does not want to put anyone in financial trouble for those who find the price high, and states that his story does not exceed 2 hours. So this means that you can buy the game for 17 thousand TL and return it easily after you finish it completely.
Currently the most expensive game on Steam is The Hidden and Unkown. On the other hand, this is not the first time that this situation has happened. Previously, many developers have published games at very high prices in digital stores and became the agenda on social media.
The Hidden and Unkown system requirements
Minimum:
OS:Windows 7 or higher.
Processor:1.8 GHz Dual Core CPU
Display card:Built-in video card
RAM:2GB
Storage:505 MB of available space
DirectX:Version 11
So what do you guys think about this game? What do you think is the developer's goal here? You can share your views with us in the Comments section below.