Windows 11 was released by Microsoft in recent years. In the first days of its release, it was criticized by users due to many errors. Having solved most of them, the company is currently working on new features. Microsoft introduced the screen recording feature that Windows 11 users have been eagerly waiting for to Insider users.
Windows 11's Screen Recording feature is available to Insider users!
Windows users previously had to turn to third-party software like OBS Studio or Bandicam to record screens. This was affecting the experience quite badly, and seeing this, the company finally took action.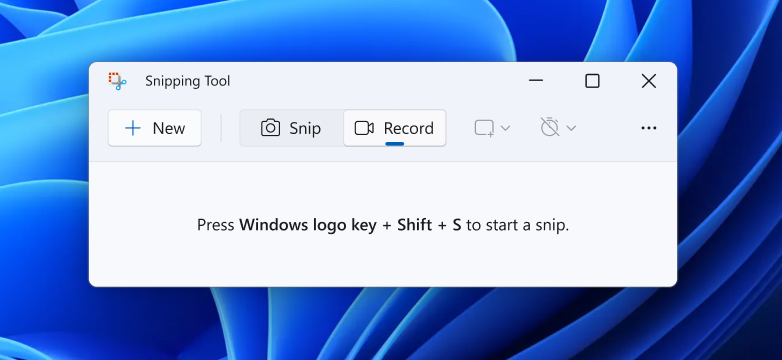 Screen recording via the Snipping Tool in Windows 11 was previously only available to the Dev channel on Insider for testing purposes. Now it is released for all Windows Insider users with versions 22621.1245 and 22623.125. To access the new feature, the Snipping tool must have version 11.2212.24.0 or higher installed.
It is possible to select the entire screen or a specific area for screen recording. In this way, you do not need to do any cropping afterwards. You can pause while recording. The video file, on the other hand, is saved in MP4 format and you can watch it on a compatible player.
It is not yet known how many minutes can be recorded with the screen recording feature. On the other hand, there is no clear information about whether the application is compressing files in the background for smaller video. More detailed information will be shared in the coming days.
The date when the Snipping tool with screen recording feature will be available to all Windows 11 users remains unclear. However, forecasts point to the coming months. In addition to these, some problems were solved with the updates 22621.1245 and 22623.125. The release notes are as follows:
Taskbar
Fixed a major ShellExperienceHost crash related to interacting with Quick Settings.
Task Manager
Fixed several issues that caused Task Manager to crash.
You shouldn't have to make the Task Manager this wide before the navigation pane appears.
If the text size has been increased, the search box will no longer conflict with the title bar text.
Made some tweaks to handle cases where text in dialogs was cut off if the text size was increased.
Addresses an issue where certain parts of the title bar cannot be used to drag the window.
So what do you think about the screen recording feature of Windows 11? Do you think it was necessary? You can share your views with us in the Comments section below.